Reliable Furniture Removal Services In Manchester
Call Now for a Free Same-Day Quotation
Get Your Old Furniture Removal Services in Manchester Done Safely & Efficiently
Have you ever wanted to replace your old furniture but simply did not have the manpower or time to do so? Or have you bought new furniture recently, only to have the old furnishing sit around the home and accumulate dust? Old furniture removal in Manchester can be quite a task: not just you've to break down & carry those bulky stuffs out the door, but you also have to find out what to do with them. Many cities don't allow particular furnishings on the curb, and for city pick up you've to depend on their packed schedule. Not to say you've to do all the heavy lifting.
This is where you'd like to put your faith in furniture removal service in Manchester like Cleared 4 U. Our furniture removal service is safe, efficient and eco-friendly, so you don't have to be worried about the pick up or disposal of those unused items. Apart from that, we also ensure that your old furnishings end up in the right place: whether it be a recycling facility to make sure your items are disposed in an environment-friendly way or a charity if the items are still in decent shape for a donation.
Expert Junk Removal & Clearance in Manchester:
It is always a headache to figuring out what to do with your unwanted furniture. Leave out that hassle to us and let our junk furniture removal specialists to what they do best. We remove all kinds of furniture, including but not limited to: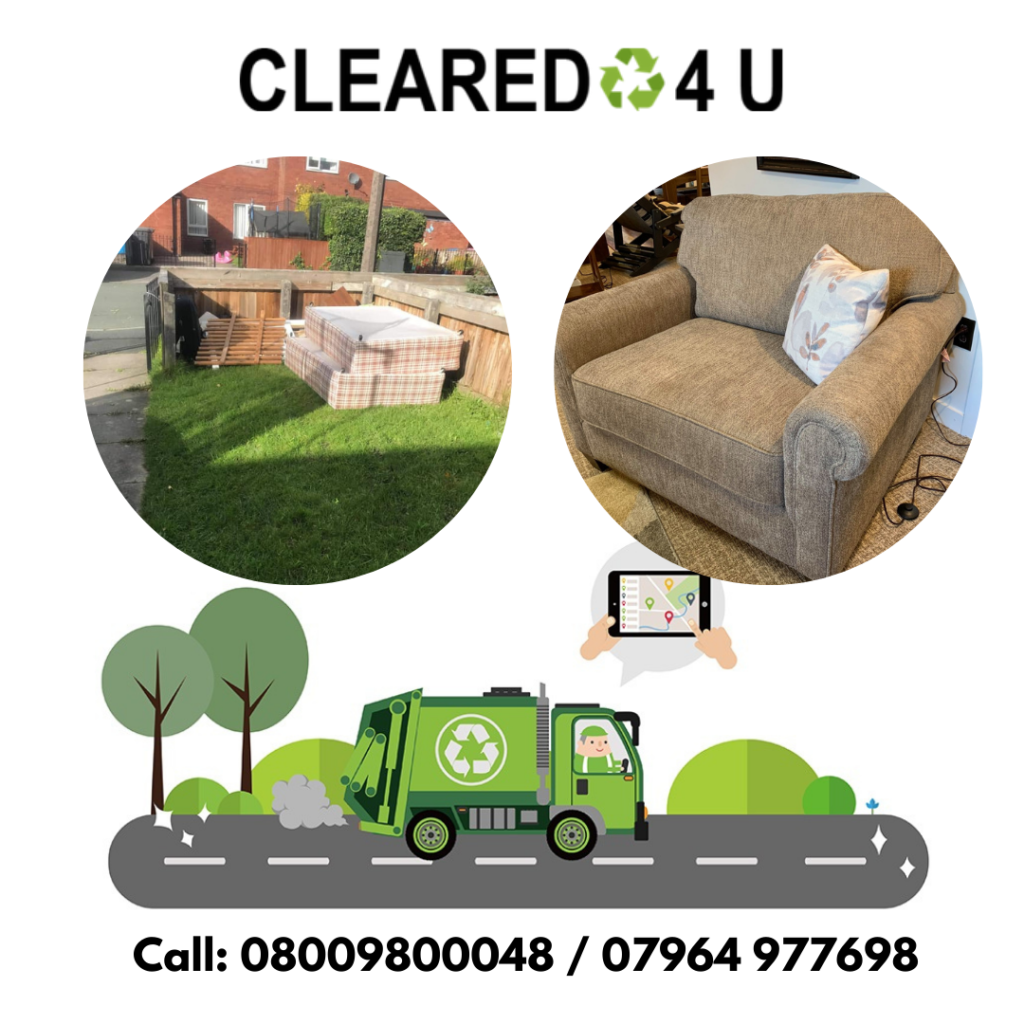 Call Us Now To Get Furniture Hauling Assistance:
Are you looking to throw away an unused couch or old dresser? Are these heavy furnishings tough to donate or recycle on your own? Call Cleared 4 U today to have your unwanted furnishing hauled away efficiently. Irrespective of the condition of your junk furniture, we'll professional haul away everything and take care of all the heavy lifting from in or outside of your home. Our safe & dependable furniture pick up services are your best option if you're looking for the easiest way to get rid of old furnishing responsibly in your local area.
Call us right now whether you are looking for residential or office furniture removal in Manchester. We would love to haul away and dispose your unwanted furniture in the safest possible manner.
Please contact us with any questions or comments using the information below. We look forward to hearing from you. Thank you!
Service Areas: Manchester, Lancashire, Wirral, Warrington, and Surrounding Areas within a 40- to 50-Mile Radius
"We were let down by an outfit on the day we were supposed to hand our keys over to our solicitor. We called CFU, they were busy but the boss came over and removed all our junk out of the property, and the van collected it that evening, saved our day. Thank you so much."
"The team dismantled and disposed of our old garage. Very impressed with them. Great job."
"I have had cleared 4 U out on 2 occasions and have found them to be fair and hardworking, would recommend."